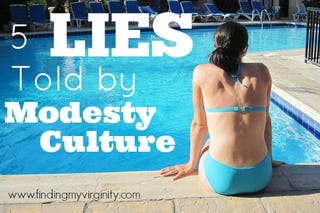 It's that time of year again. The weather is finally warming up, even here in the chilly Midwest. We traded our boots for our flip-flops, wool hats for straw hats. My husband and I even bought a new grill and celebrated a recent warm night with pork chops and bell peppers with my brother-in-law P and his wife E.
Of course, with the hot weather and the switch to seasonally-appropriate clothes come something slightly less cheerful...
All the admonitions that girls should dress modestly or else.
During my bikini series last year, I learned more than I ever wanted to know about modesty culture. Today I'm critiquing five of the worst and the most common lies told by proponents of modesty culture.
1) Women are responsible for men's lust.
Women. It is impossible for you to control how another person thinks or feels. Literally the only way you can stop any man in the world from noticing your existence is by not leaving your house. Ever. You cannot anticipate what will or will not cause a man to lust. Ankles used to be quite scandalous while generous decolletage was NBD. Don't let anyone tell you that your mere existence in a female body is cause for male lust.
Some Christian bloggers have sorta wised up to the flaws in this argument. They start their writing with a throwaway paragraph or two insisting that only men are responsible for their lust... BUT. There's always a but involved. Men are responsible for their lust, BUT women need to dress modestly to help them. Their scriptural basis for this is usually a horrible misinterpretation of Romans 14, which I addressed in detail last summer in my post "My Bikini Answer: All Women Cannot Prevent the Lust of All Men."
They all assume that Christians are called to modify their daily behavior to prevent the potential sin of every single person they ever meet.

Well, no, that's not exactly it. They all assume that Christian women are called to modify their daily behavior to prevent the potential lust of every single MAN they ever meet.
No. Stop asking women to anticipate the weaknesses of every single man ever. It is not our responsibility to keep your thoughts pure.
2) Any woman who causes a man to lust has committed a sin.
Wait, what? First, this is based on the premise that women are responsible for men's lust, which I just pointed out is ridiculous. Second, this is again a horrible misinterpretation of scripture. Look at Matthew 5:27-28. A typical translation is as follows.
"You have heard that it was said, 'You shall not commit adultery.' But I say to you that everyone who looks at a woman with lust has already committed adultery with her in his heart. (NSRV)
Anyone who claims a woman sins if a man lusts after her is a person reallllllly fixated on the two words "with her." As though she has somehow consented to this adultery of the heart. Quite often, a woman doesn't even know if a man has lusted after her. What is her sin again? Being female in public?
Furthermore, this article examines the Greek and explains in detail why most translations of these verses are so bad. The author explains the true meaning of the verse this way.